Inspiration and Meal Ideas From the Goodbugs Kitchen | GoodBugs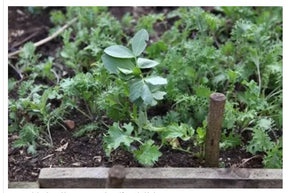 Fermented Pesto: How to make a dairy free version at home All this recent rain has meant our house garden has seeming sprouted up overnight. Fermented Pesto is a great way to use up a variety of different greens that you find in your garden. That is as locally made as it gets:-) I've made fermented pesto with ingredients as diverse as carrot tops, oxalis! and kumara leaves before. Ingredients: (I've used ratios so you can weigh them if you prefer) 6 parts fresh herbs or leafy greens leaves 5 parts extra-virgin olive oil 4 parts nuts/seeds 1/2 minced garlic 1/2 lemons (peel or...
---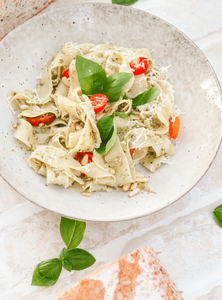 Winter is a great time for hearty meals that warm you up - and this fettuccine has the added bonus of being super simple to make! Simply cook your fettuccine (or pasta of your preference), drain, and stir through our Zesta Fermented Pesto.  Top with halved cherry tomatoes, basil leaves, pine nuts, and extra parmesan cheese.  An instant hit with the whole family!  
---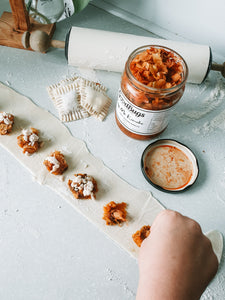 GoodBugs Kimchi chicken & roast pumpkin ravioli
---
• Purple Zuurkool • Recipes • Sauerkraut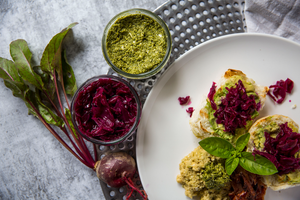 Add a GoodBugs twist to your morning with this delicious take on Bacon and Eggs from @Glowmamablog Ingredients: Buns (halved) Cream Cheese Avocado Smoked Salt Bacon Eggs Butter Cream Zesta Fermented Pesto Purple Zurkool (or whatever GoodBugs Sauerkraut you have in the fridge!) Method: - Place your bacon on a baking sheet and cook until crispy in the oven. For the last 5 minutes of cooking, pop your halved buns in the oven to toast lightly.  - Scramble your eggs using butter, cream and a pinch of salt. Mix your fermented pesto into the eggs when almost cooked (before the egg...
---
• Kimchi • Recipes • Sauerkraut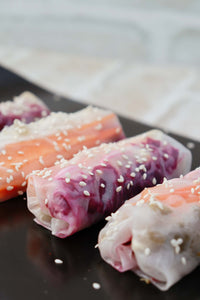 Rice Paper Rolls are a great summer snack! Follow the directions on the rice paper packet. You'll need to fill a dinner plate with water, dip the rice paper into the water, leave for 30 seconds to soften then transfer to a board. Top with your favourite fresh ingredients and GoodBugs! These ones are packed full of kimchi, sauerkraut carrot and cucumber. Fold ends in then roll up from bottom into a firm roll. Enjoy straight away!