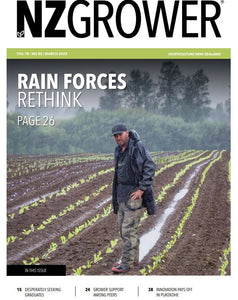 We are featured in the NZ Grower Magazine on Page 24 and 25. Thanks Geoff Lewis and Trefor Ward, it was a fun morning. Check out Tony Cato from Pirongia Mountain Vegetables on the cover of March 2023 NZ Grower magazine:-) GoodBugs are proud to source our sprayfree delicious cabbages and garlic from these awesome locals so that we can make the best kimchi and sauerkraut in NZ! Tony also grows cute little red cabbages so we can make our Red cabbage sauerkraut that we call Purple Zuurkool. Turning nine tonnes of cabbage into Probiotic Foods that are great for your gut health was...
---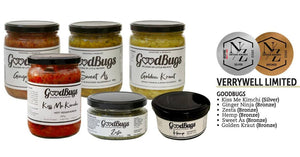 The Inspire+ NZ Artisan Awards saw its biggest year yet, with over 1,000 entries making it the largest food award programme in the country. We are so excited to announce that we received FIVE Bronze Awards, and one Silver Award!​ Our Kiss Me Kimchi, Ginger Ninja, Zesta Pesto, Hemp Pesto, Sweet as Sauerkraut and Golden Kraut all came away as winners. A Massive CONGRATULATIONS also goes out to our friends who also took away prizes! Cornish Pasties NZ Just Dough High Country Salmon Over the Moon Dairy Company The Wild Fermentary AraBello Ltd Real Pasta #sauerkraut #fermentedfoods #summervibes #summersalad #fermenting...
---
• #stuff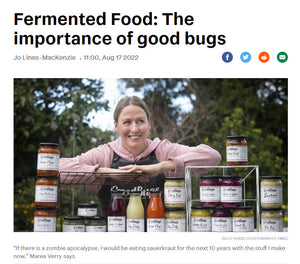 https://www.stuff.co.nz/life-style/food-drink/129461604/fermented-food-the-importance-of-good-bugs Jo Lines-MacKenzie11:00, Aug 17 2022
---

Honorable mention in Cuisine magazine https://www.cuisine.co.nz/local-heroes-waikato/ The Waikato and dairy famously go hand in hand, but travel across the region and you'll find there is so much more to it than just Hamilton. Raglan, Matamata, Cambridge, Putararu, Te Awamutu and Te Kauwhata are home to farmers, winemakers, brewers, cheesemakers, orchardists, beekeepers and growers, giving this region a foodie reputation beyond just great dairy. There is a passion here for healthy, fresh, seasonal food. This is a region taking the concept of paddock to plate to another level. The self-evident results of a sustainable and organic approach to food is reason...
---
• #asseenontv • #ruraldelivery

'Good guts' ambassador Marea Verry is based in Waikato.  Marea hand-makes her products in small batches, sourcing fresh organic spray-free produce from local growers for her GoodBugs fermented foods – sauerkraut, its Korean cousin kimchi, and pesto.